Project Feature: The Icon at Barrack
Our team recently completed an outstanding project in Barrack Point, knocking down an existing property to create an ultra-modern, architecturally-designed home in one of the area's most sought-after locations.
Low maintenance living was essential
The client's brief was for a brand-new contemporary home that was low maintenance, secure and incredibly private. The block's headland position introduced the potential for breathtaking ocean views, so our clients wanted to capitalise on this with as many ocean-facing rooms and windows as possible.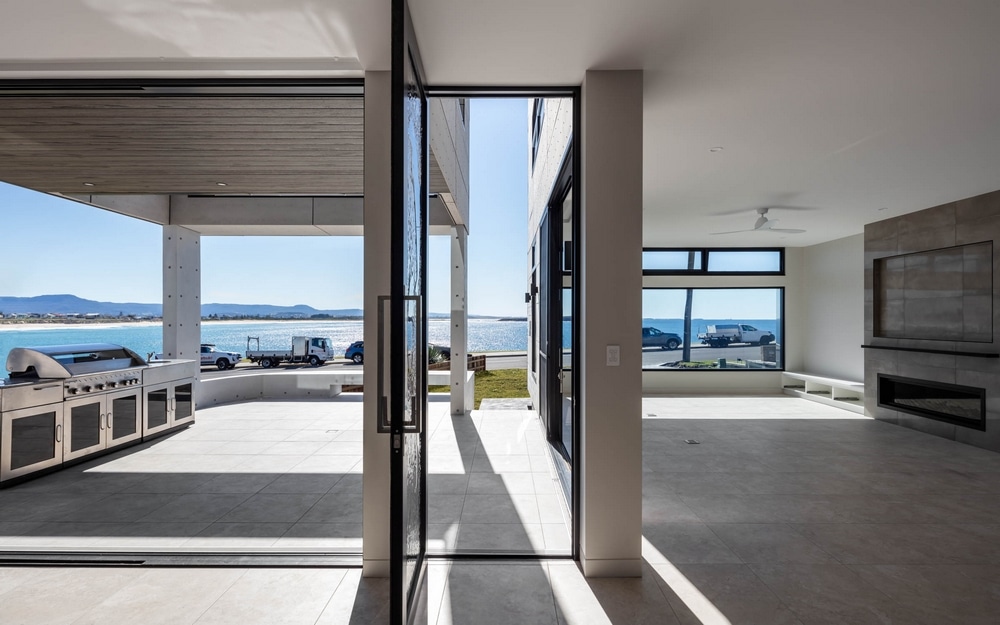 Open-plan living was also a key desire, with space to entertain their extended family made easier with a large kitchen and butler's pantry. Finally, maintenance, or lack thereof, was incredibly important – as retirees, our clients didn't want to commit to ongoing upkeep, especially of the exterior.
We were involved from the very beginning, working alongside the incredible team at I Architecture to bring our client's vision to life. By bringing us in from the initial stages, we were able to deliver accurate costings and real-time market advice that saved the client time and money.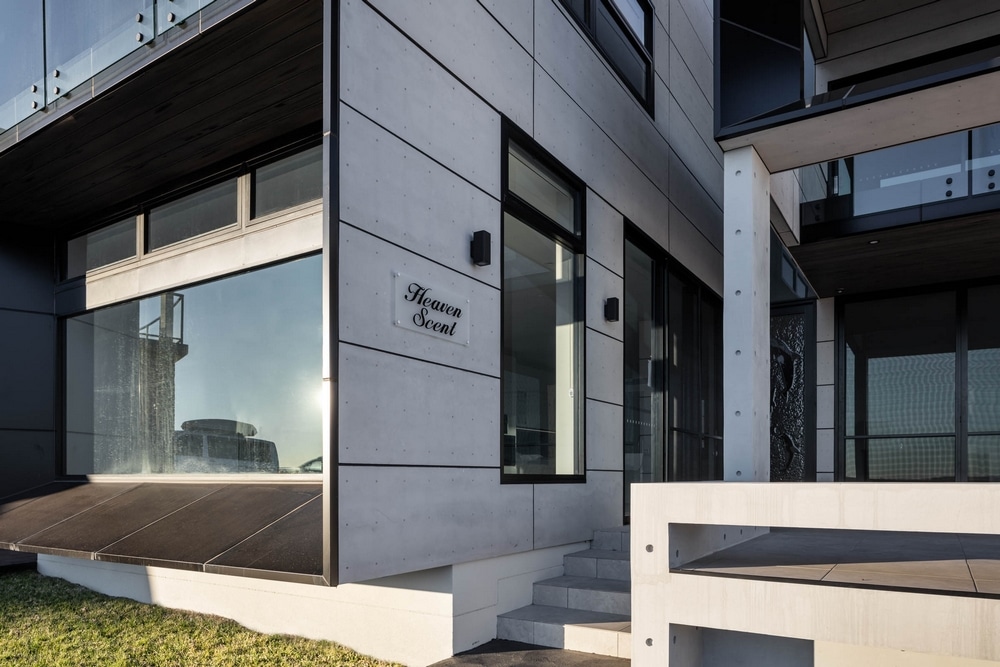 A beachfront masterpiece
The end result is a four-bedroom, three-bathroom home with a separate study, two living areas, a dining area and three outdoor areas. The master bedroom features a walk-in robe and ensuite, while a lift allows for easy access between the two floors.
The Icon also includes functional amenities such as a separate laundry, two-car garage and extensive storage, both in the garage and interior of the home.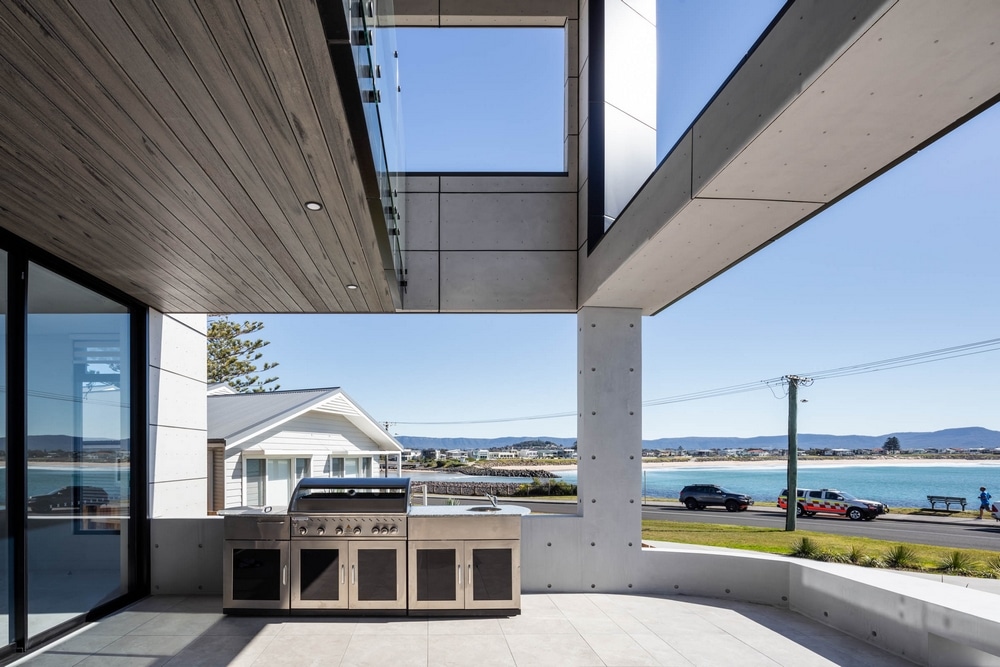 In order to take advantage of the beachfront location, we placed the garage at the back of the property, away from the ocean-facing views. We also included plenty of glass windows and doors, including large feature windows at the front of the living room, so that the clients could enjoy spectacular views from as many vantage points as possible.
The large feature windows in the living room and above the front door, provided by Hanlon Windows, were a particularly complex element for our team and required specialist installation with extreme care using a crane late in the project. While taking into consideration the wind and rain on the coastal location, this became quite a challenging task.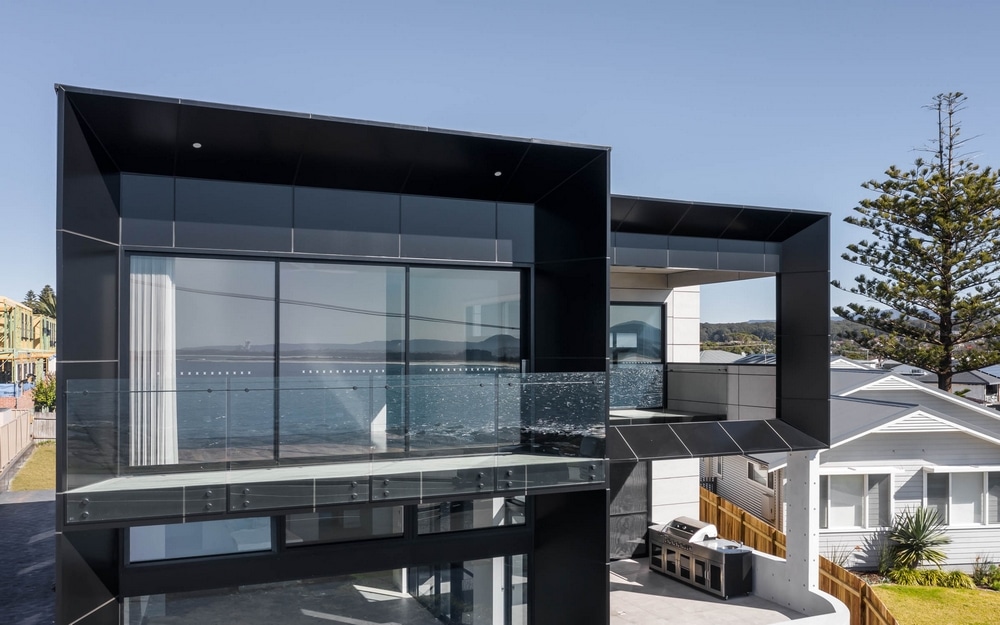 The challenges of building on the coast
While beautiful, the location also presented its fair share of challenges – the wind rating of the block was zoned at N4 cyclonic, so the building required extensive external bracing and tie-down strengthening elements. The effect of sea salt on the exterior was also a major concern – in order to counter this, we worked closely with our engineer and carefully finalised all product specifications to ensure items were suitable to withstand the extreme coastal conditions.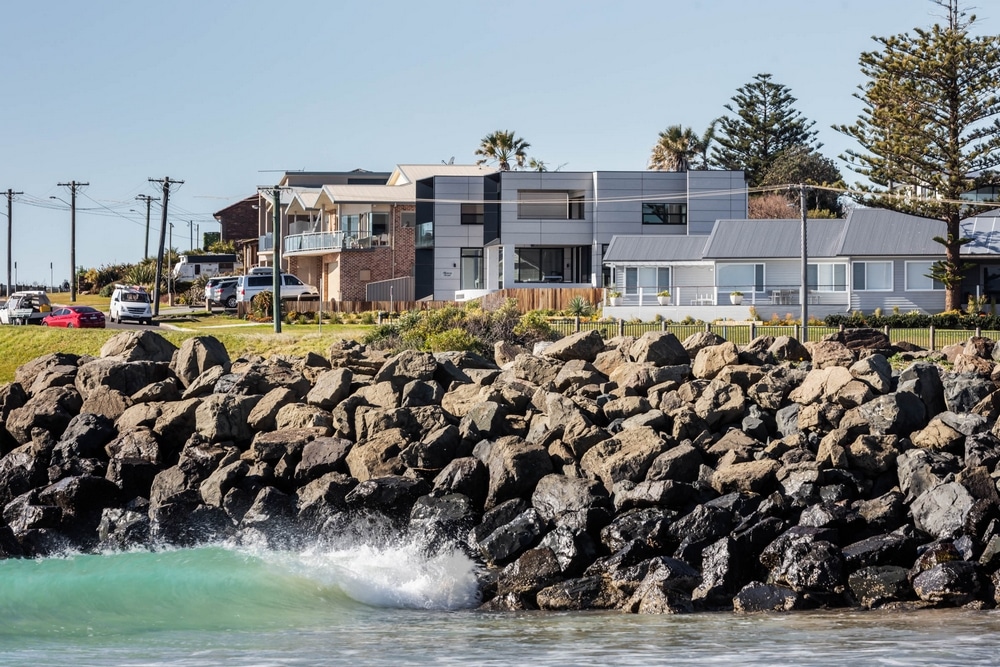 Of course, the biggest challenge of all was running a building site during the COVID-19 pandemic. We had to be extremely organised to overcome unusually long lead times on materials and ensure that our team were operating as safely as possible. We're glad to say we were able to do this without much delay, resulting in a build that stayed within budget and within timelines.
This project wouldn't have been possible without significant collaboration with our incredible client and the expert team at I Architecture – by working together, we were able to bring together some incredibly complex features and execute them to the highest standard.
___
See more of the exceptional Icon at Barrack on our portfolio page or get in touch with our South Coast team to find out how we can bring your vision to life.