Shellharbour. Build Your Future
Have you considered building your dream home in Shellharbour? Perhaps it's time…
Located on the picturesque South Coast of NSW and just over an hour south of Sydney, Shellharbour possesses a laid-back holiday feeling with beaches, countryside and capital cities all in close proximity.
Those who build and live in Shellharbour Village enjoy everyday life in walking distance to everything this stunning coastal town has to offer – beaches, shops, schools, parks, cafes and, of course, the future marina. Due for completion in early 2020, Shellharbour Marina will offer direct access to the Tasman Sea and will include a lively new town centre.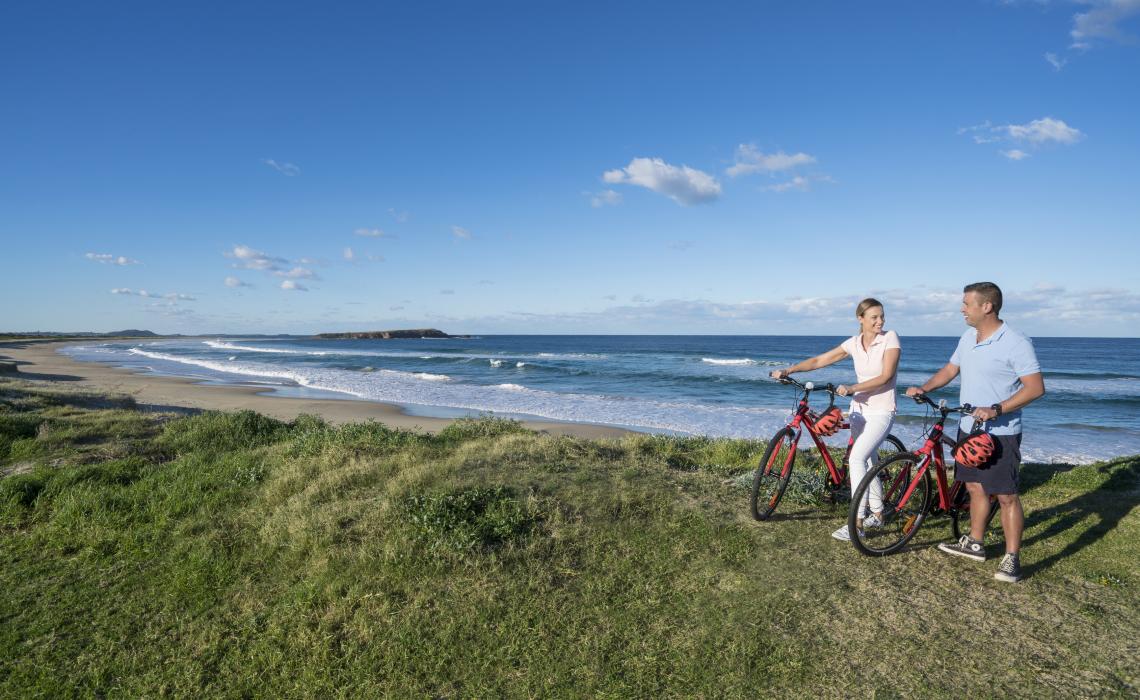 Why are we so passionate about this lively area, you may ask? Well, our latest project – an ultra-modern family home, is located in Shellharbour Village. Boasting spacious open plan living, an outdoor entertaining area and stylish pool and spa, this project is very close to our hearts as it belongs to Smartbuild South Coast business owners Jake Brady and his wife.
Jake and his wife have lived here, roughing it in the old home for over 5 years since they purchased it, waiting patiently until they could rebuild. They recently had the opportunity to do so and the results were well and truly worth the wait. This stunning modern home is set to become Smartbuild HQ, an icon of everything we stand for at the company.
The brief for this project was to create an open-plan, family home that flowed from front to back and into spacious outdoor entertaining areas, including a pool and spa. We worked closely with the very talented team at iarchitecture to design the space, which is built from stylish feature cladding, Hanlon Windows and engineered oak flooring.
We drew upon a number of modern and high-quality materials to bring this long-awaited project to life, including Lysaght's Enseam for external cladding on upper floors. For the lower floor, we used a combination of Weathertex Weathergroove woodgrain timber finish cladding and BGC Duragroove with a textured paint finish to create contrast.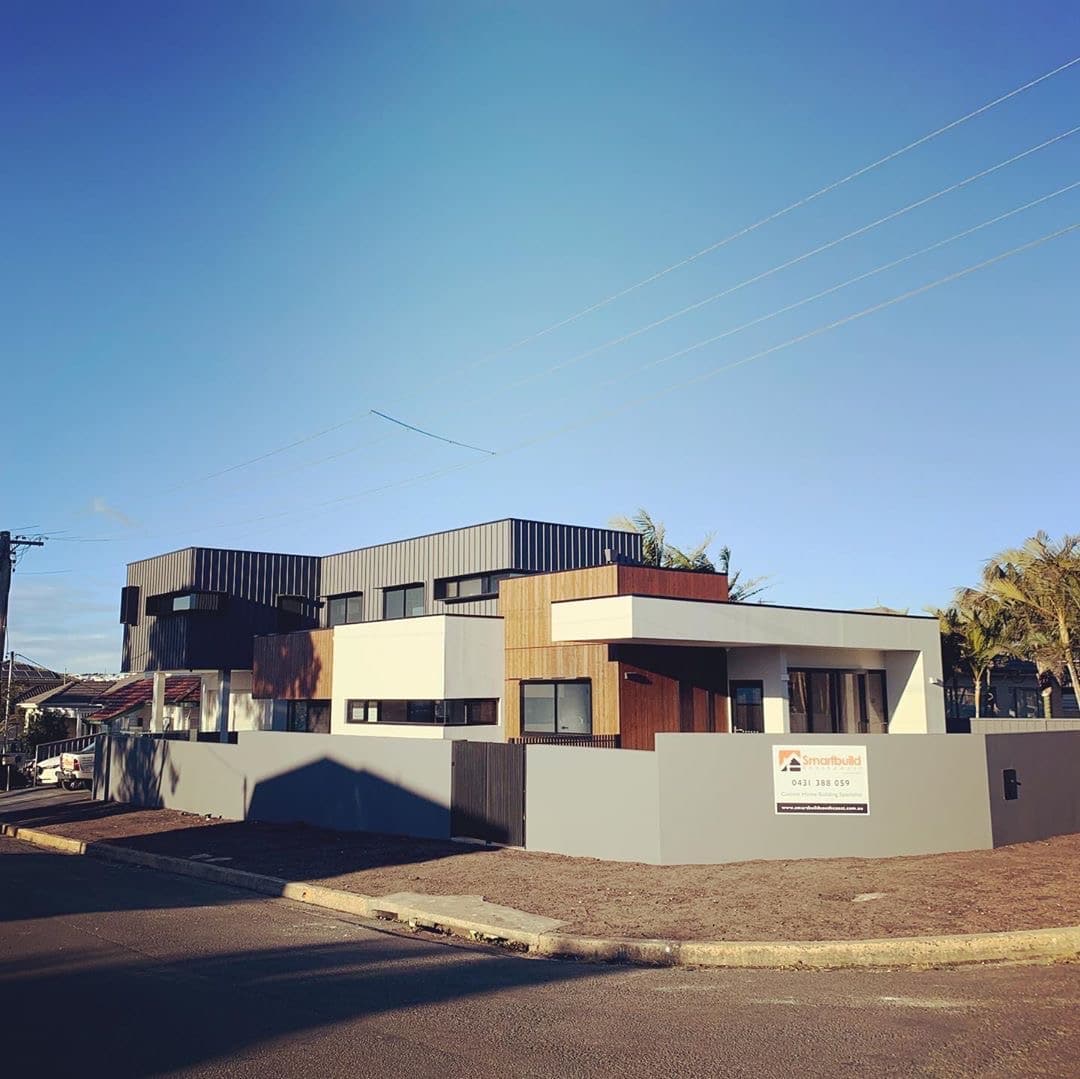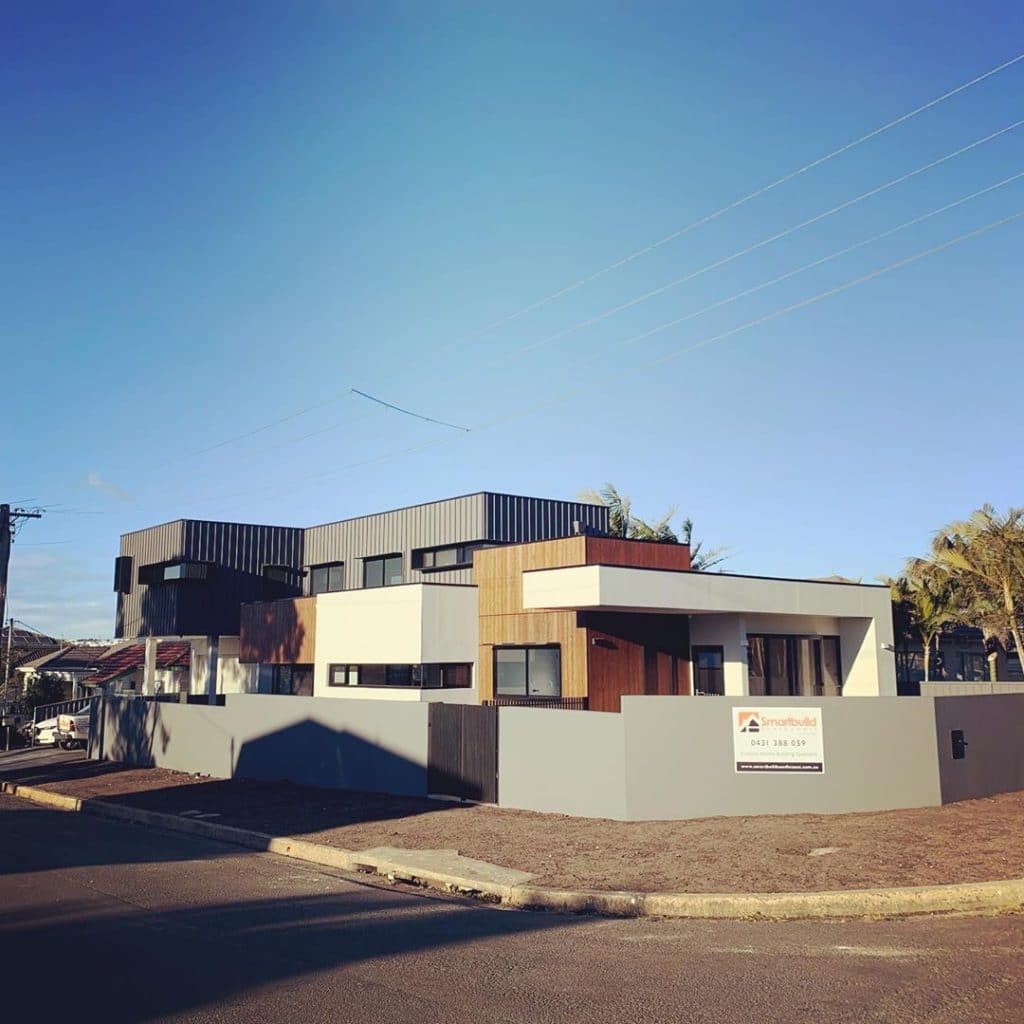 Inside this coastal home, we used EzyJamb door jambs and flush Shadowline skirting to create a seamless look. We finished this off with engineered oak flooring, marble herringbone feature walls in the bathrooms, stone bench tops in the kitchen and matte black poly cupboards.
In the home's spacious outdoor entertaining area, we created an alfresco kitchen and cosy fireplace area, as well as adding a pool and spa. As the main focal point of the home, we basically built the entire house around this ultra-modern outdoor space. As this is where Jake and his family will be spending the most time, we wanted to make sure we got this stunning area just right.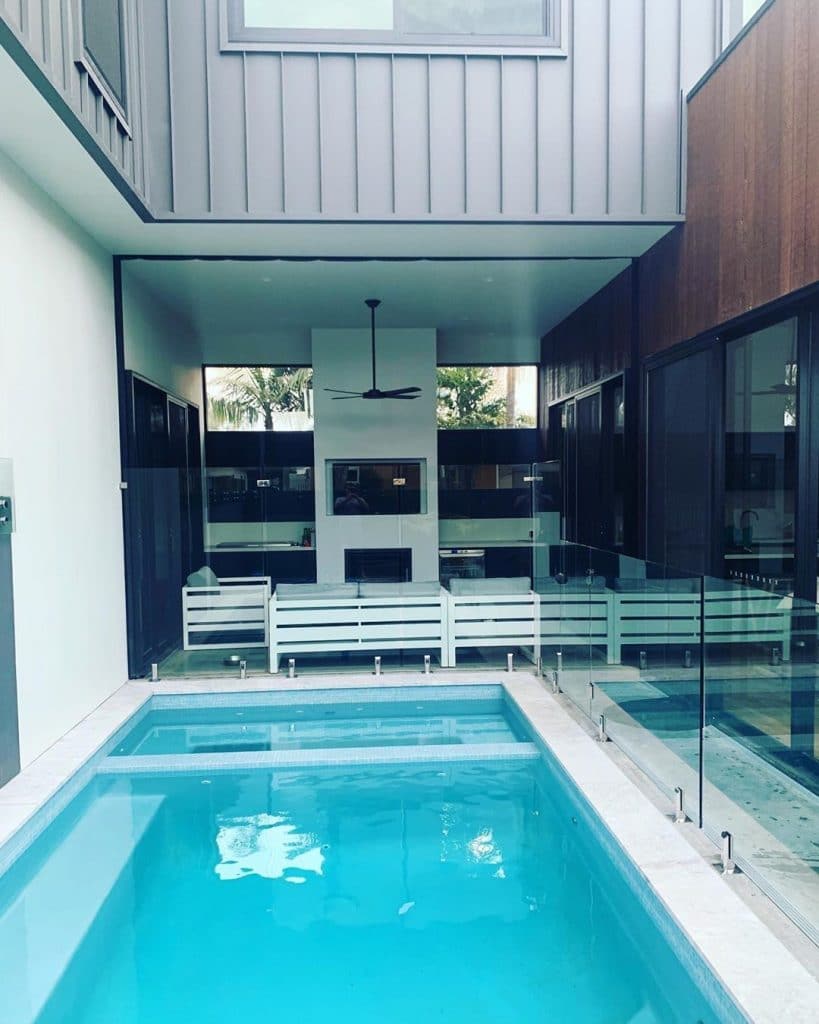 We are so proud of our team for their work on this exciting project. A big thanks to our partners at iarchitecture for creating such a stunning design for us to work on and to all the tradies, subcontractors and industry partners who were involved in making this home a success. Stay tuned for professional photography of this project coming soon… 
As a family owned and operated local business, we truly understand what it takes to create a family home on the stunning South Coast.
If you're ready to bring your dream home to life in this beautiful region, get in touch with the custom home building specialists at Smartbuild South Coast today!