Step Inside the Architecturally Designed Smartbuild HQ
As we near the end of another big year, we wanted to take you through our most recently completed project – Smartbuild HQ. This ultra-modern custom home, located in Shellharbour, is the epitome of open-plan coastal living.
As this space was set to become the home base for all things Smartbuild South Coast, it was important that we got it right from the beginning. We enlisted the help of I Architecture to design a home that would maximise natural light and give our Founder and Director Jake and his family plenty of space to live and entertain.
The completed project features open-plan kitchen, living and dining, as well as a spacious outdoor area complete with pool, spa, alfresco kitchen and fireplace. The design of the entire home centres around this social space, ensuring Jake and his family have ample room for both entertaining and relaxing after a long day at work.
Let's take a closer look at this beautiful home…
Exteriors
We implemented a selection of modern materials to bring this two-storey home to life. On the outside, we used a combination of cladding to achieve the home's striking modern look. On the upper floors, we drew upon Lysaghts Enseam (Basalt Matte colour) cladding, while BGC Durascape was used on the lower floors with a textured paint to add interest. We also used Weathertex Weathergroove woodgrain timber finish cladding on some sections of the exterior to add contrast.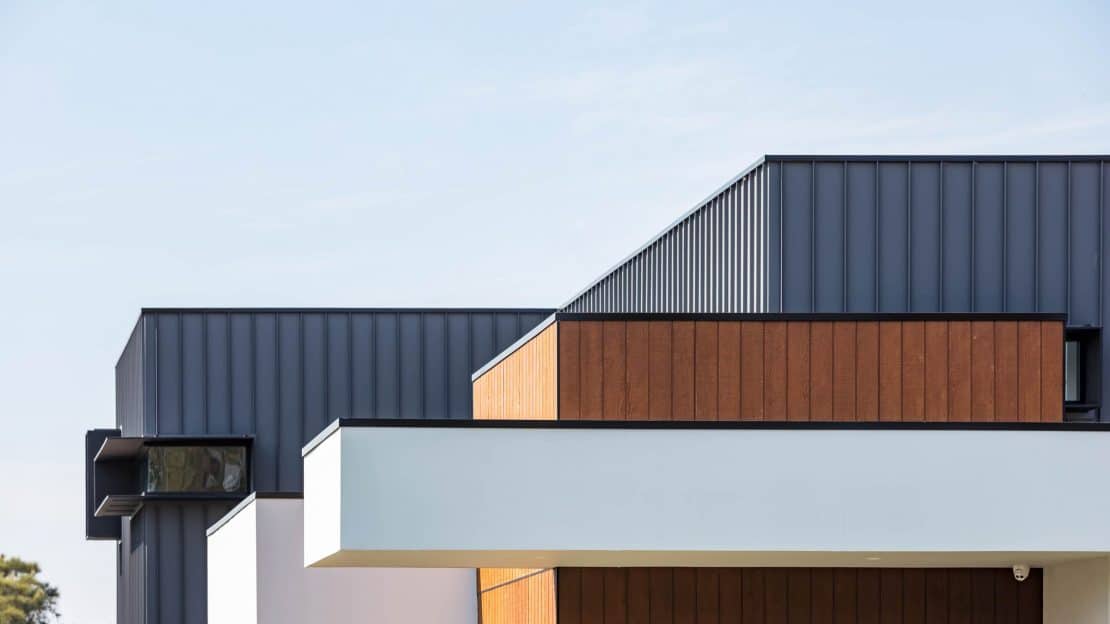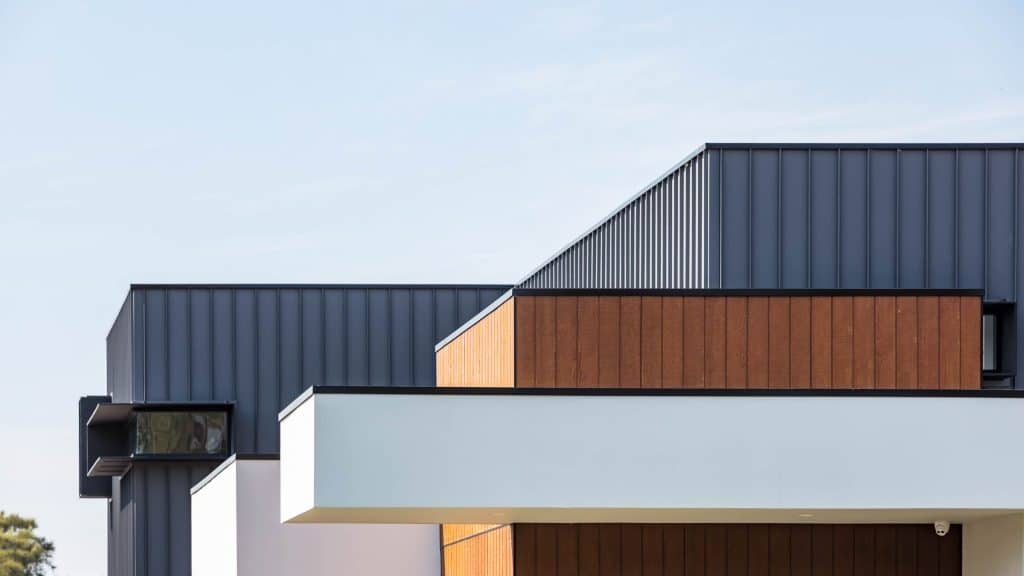 Living Rooms
Energy efficient (architectural series) Hanlon windows were chosen to ensure the home remains cool in summer and warm in winter, while engineered oak flooring was laid for a seamless and cosy look and feel. We opted for a modern coastal interior design that wouldn't date too quickly. This saw the addition of EzyJamb doors and shadowline skirting.
The home also features seamless floor transitions, which means there are no steps anywhere in the home. This includes the main and most difficult detail from the kitchen and family room to the outdoor area, which sits on polished concrete. This is just one example of our team's expert craftsmanship on show.
Each communal space is painted white for freshness and features plenty of natural greenery. A standout feature of the design for our team was the addition of the circular pendant light, which hangs above the raised dining table.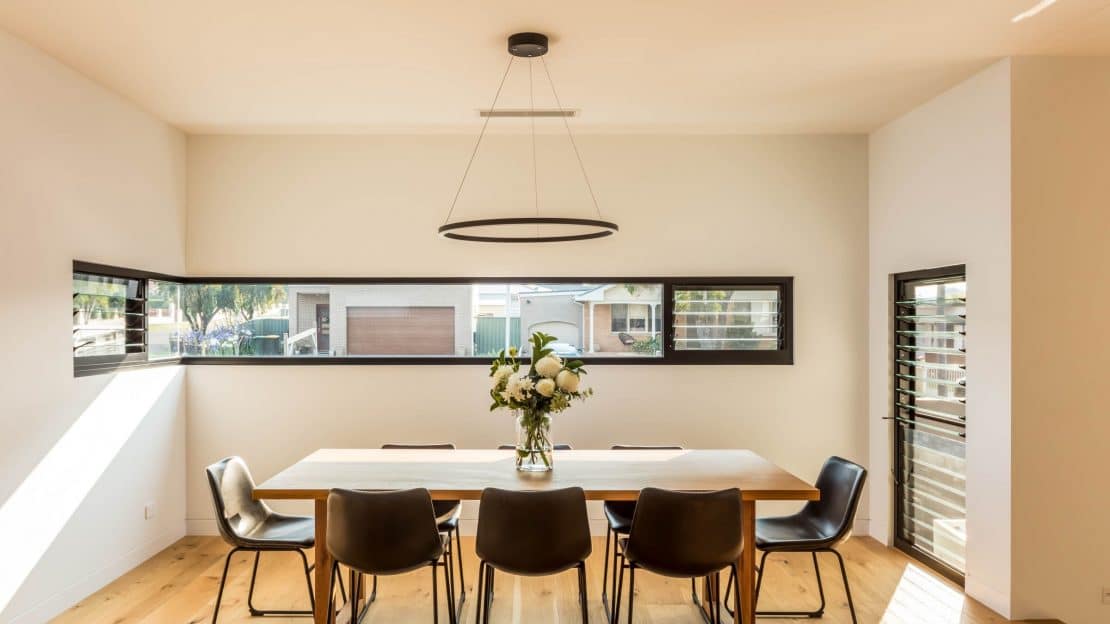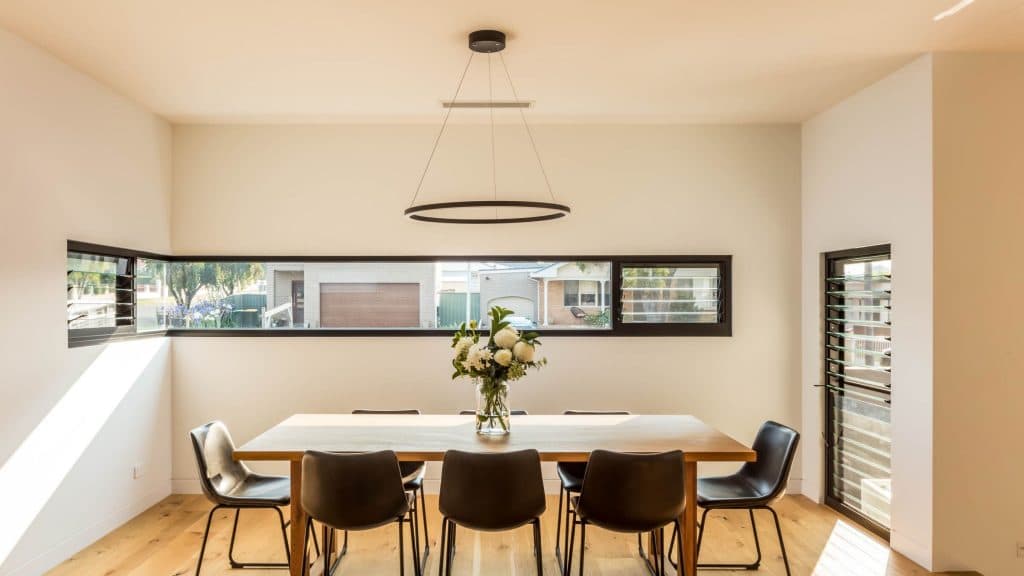 Kitchen
The kitchen achieves a striking contrast between black and white. Matte black poly cabinetry ensures plenty of room for storage, both above and below the bench, while the stone-top island bench and splashback are stunning additions. State of the art appliances and a butler's pantry were included for convenience, while matte black tapware completes the modern look and feel.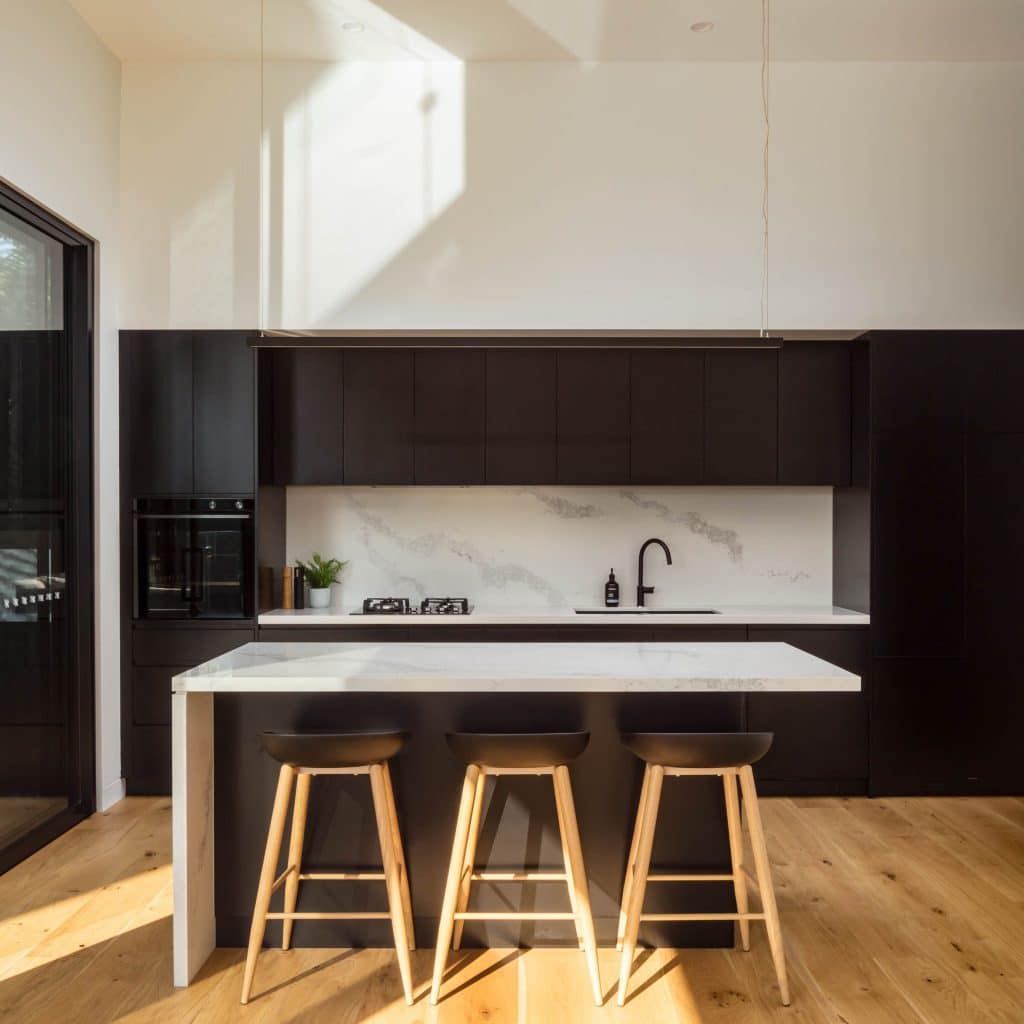 Bathrooms
Bathrooms feature subtle marble herringbone tile walls, as well as stunning timber cabinetry and dual vanities. Matte black tapware and shower head match the kitchen, breathing a sense of cohesion and style to the bathroom. Hanlon windows can be opened wide to allow natural light and air to flow in, when needed.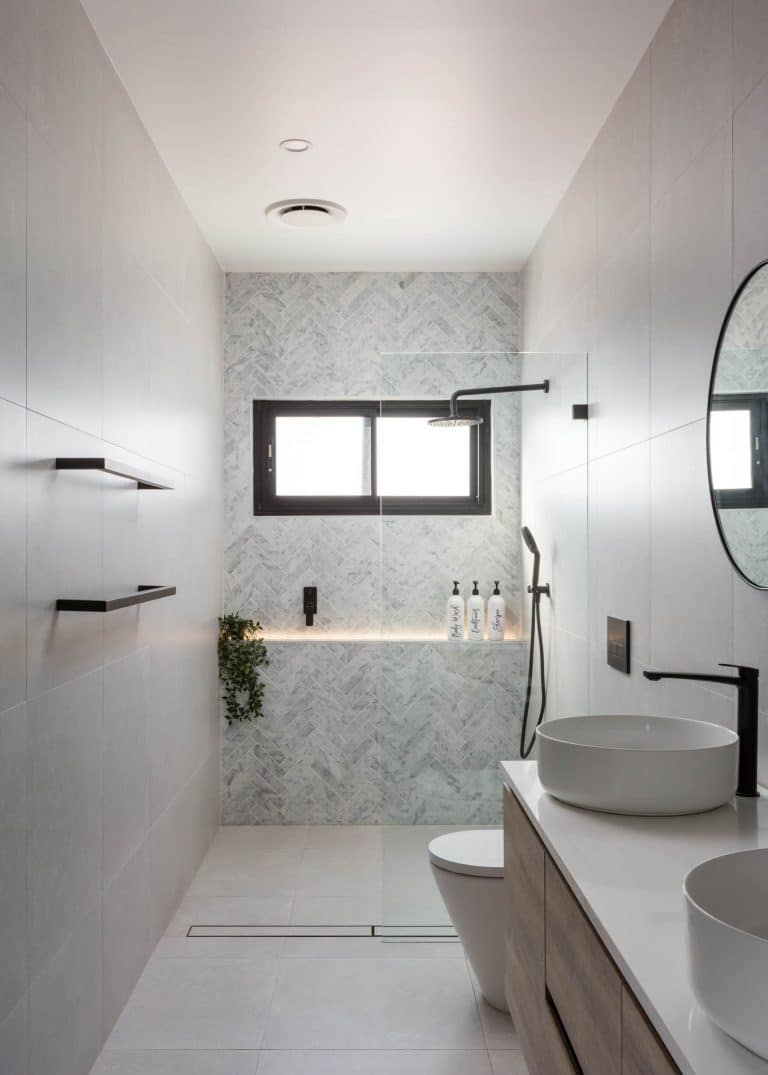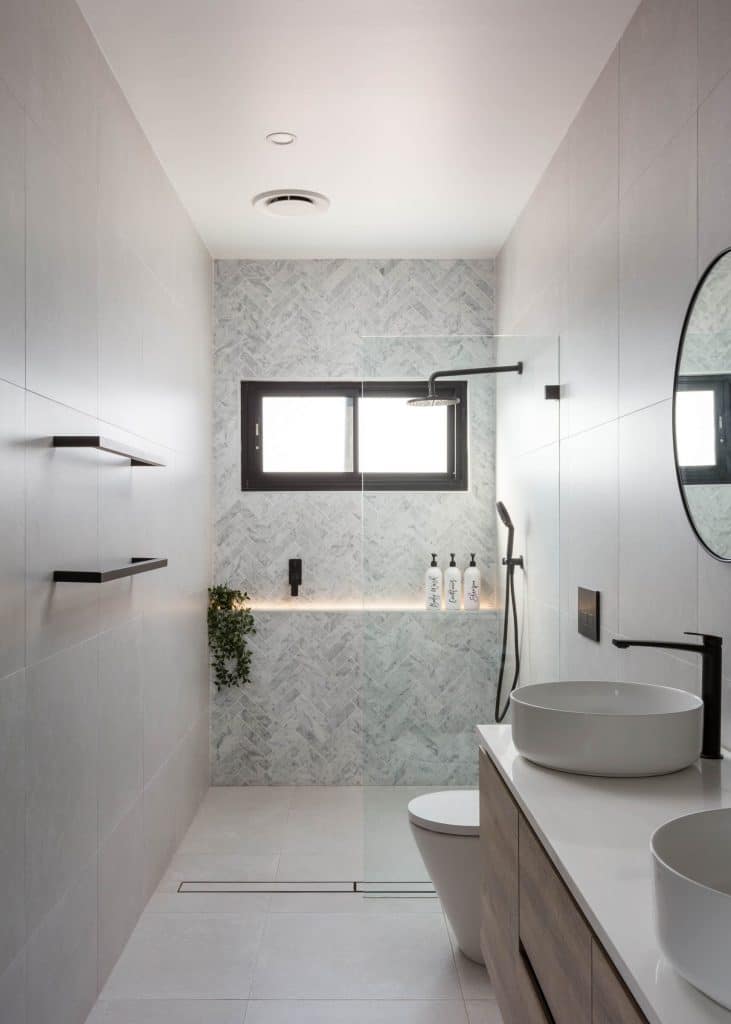 Outdoor Entertaining
Last but not least, the star of the home – the outdoor entertaining area. Let's start with the pool, which is encased in glass fencing to continue the feeling of openness and flow. An adjoining spa is perfect for cooler days or nights on the South Coast. The pool is connected to an outdoor 'room' featuring kitchen, fireplace and plush couches for relaxing after a swim.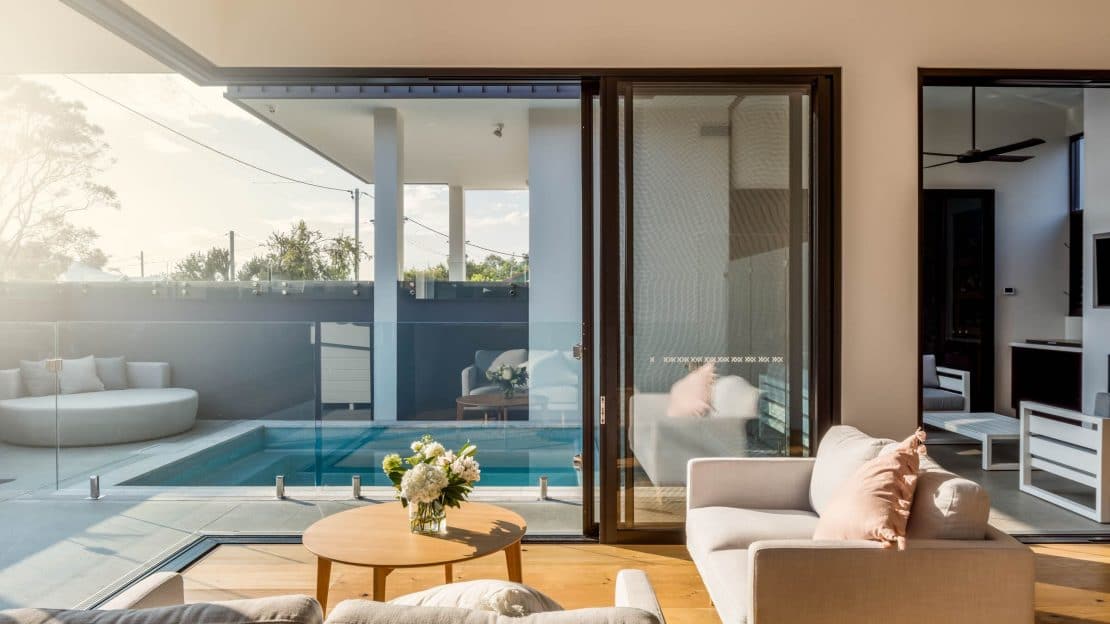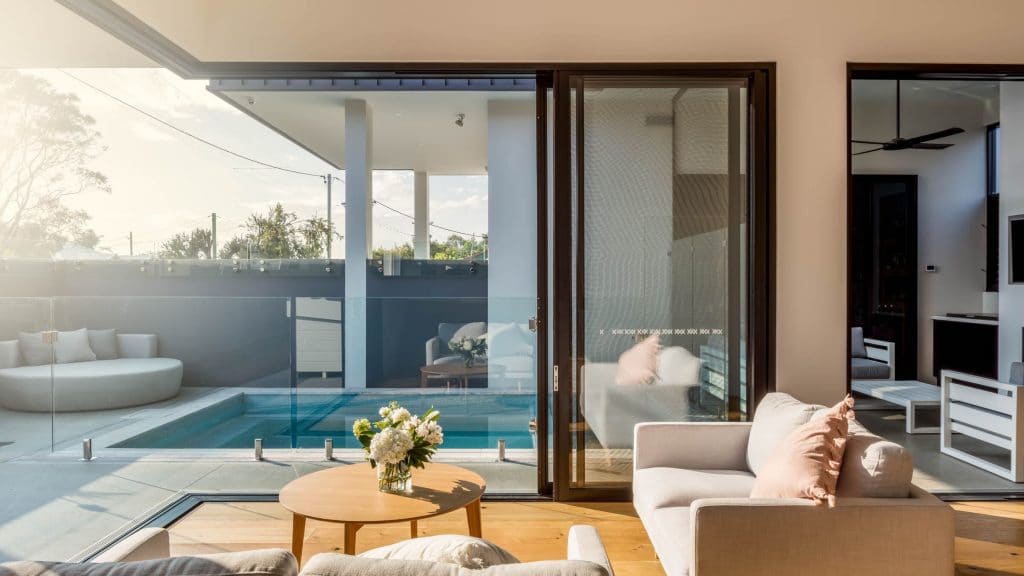 We are so proud of the results we achieved for this home in Shellharbour. Not only was this project a new home for Jake and his family, it's a fresh start for our business. We are so grateful to have worked with so many amazing suppliers and partners on this project – particularly I Architecture, who designed a modern, spacious custom home that will be enjoyed for many years to come.
If you'd like to bring your own dream coastal home to life on the South Coast in 2020, get in touch with Jake and the team at Smartbuild South Coast today!