Take A Step Into Architectural Luxury
We've had an excellent start to the year at Smartbuild South Coast, having recently handed over the keys to a three-storey luxury home in stunning Kiama. This custom-built, architecturally-designed home was a big project; works included demolishing the majority of the existing home, apart from a small section on the right-hand side, and rebuilding from scratch with major alterations and additions. The completed home embodies the Smartbuild South Coast team's commitment to attention to detail and exceptional-quality craftsmanship.
Our Kiama client approached us with a vision for an open-plan family home that would be well suited to entertaining. Naturally, they also wanted their updated coastal home to capitalise on the stunning ocean views surrounding the property. As essentially a Knock Down and Rebuild, we were able to achieve a design that was exactly to our client's unique specifications.
There are flowing entertaining areas for the whole family, an entirely open middle floor and beautiful pool area in the back. We also recreated the kitchen, lounge and dining rooms and added a front deck and alfresco barbecue area, perfect for soaking up that South Coast sunshine. None of these communal spaces have walls between them, which adds to the flowing seamless feel of this luxury home.
In terms of materials used, this was a special project. On the outside we used striking Colourbond Lysaght Longline 305 cladding, which adds a dramatic statement to the home's exterior. Hidden gutters add to the seamless feel of the home, while energy efficient aluminium Hanlon windows keep the space bright and open. We used a large number of steel beams inside the walls, which allowed us to obtain all of the unique cantilevers and created raked high ceilings and overhangs.
Out the back, a glass pool window adds a bespoke and eye-catching element to a usually standard area. This is a huge visual standout of the home, along with the area where the roof cladding turns into wall cladding, which achieves a very high-end desired look.
We were very lucky to have the support of some excellent partners throughout this exciting project, including I Architecture, Paiano Design and Harvey Norman Commercial. To fully understand the stunning nature of this architecturally-designed home, you need to look closely at each space in this exquisite home.
Let's take a closer look…
Living Spaces
Each of the living spaces in this stunning home – including lounge room, dining and family rooms; are bathed in natural light. These family friendly, architecturally-designed areas include plenty of windows to soak up the surrounding ocean views and feature eye-catching hanging lights, geometric lines and a coastal-inspired colour palette.
Beautiful sliding glass doors create a seamless connection between inside and out, allowing the home to be completely opened up when the weather is fine.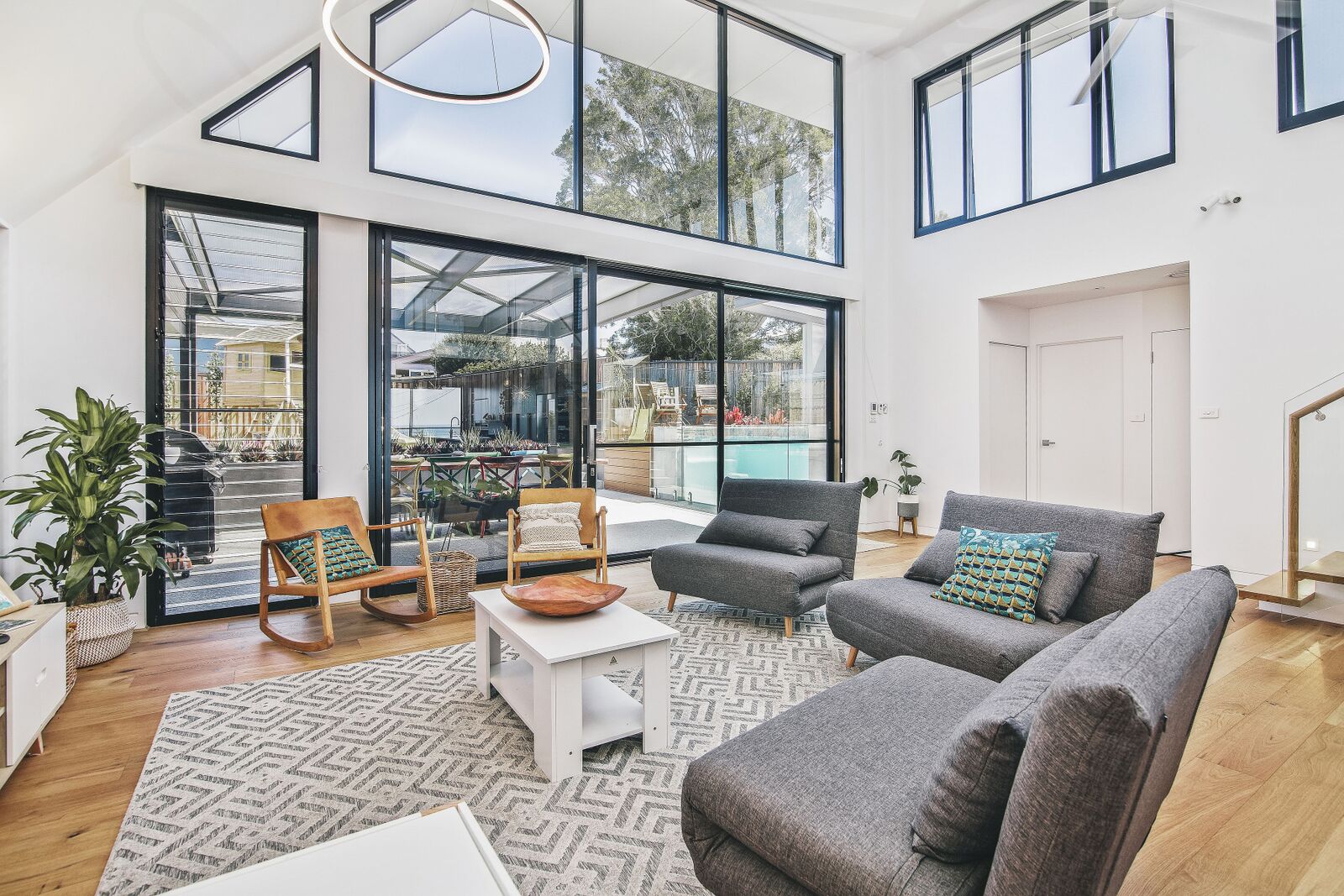 Bedrooms
Both the mid and top floor bedrooms take advantage of the beautiful coastal location of this home. The home's architectural design is continued into the bedrooms with custom bedheads, a coastal colour palette (including a blue feature wall in the master) and a simple, open style. We worked closely with I Architecture on the bedrooms to ensure each resting place took in breathtaking views of the surrounds.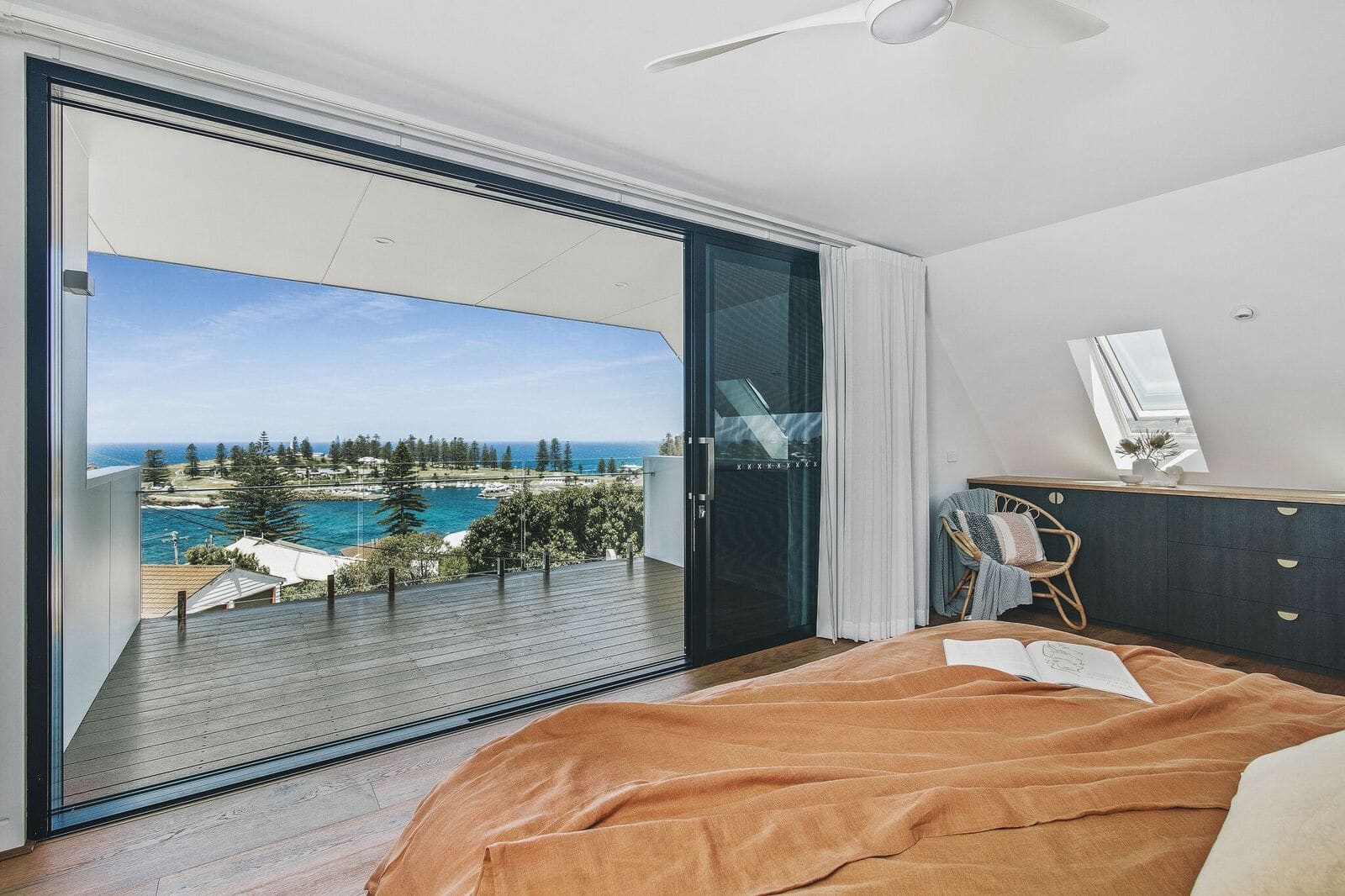 Kitchen
Enter the spacious and open kitchen at Kiama and you'll feel instantly at home. Designed and created by the team at Paiano Design, the kitchen achieves a harmonic balance between a coastal-inspired colour palette, timber finishes and high-end appliances. Complete with blue corrugated kitchen cupboards and eye-catching feature lighting, our clients were blown away with this new entertainer's paradise.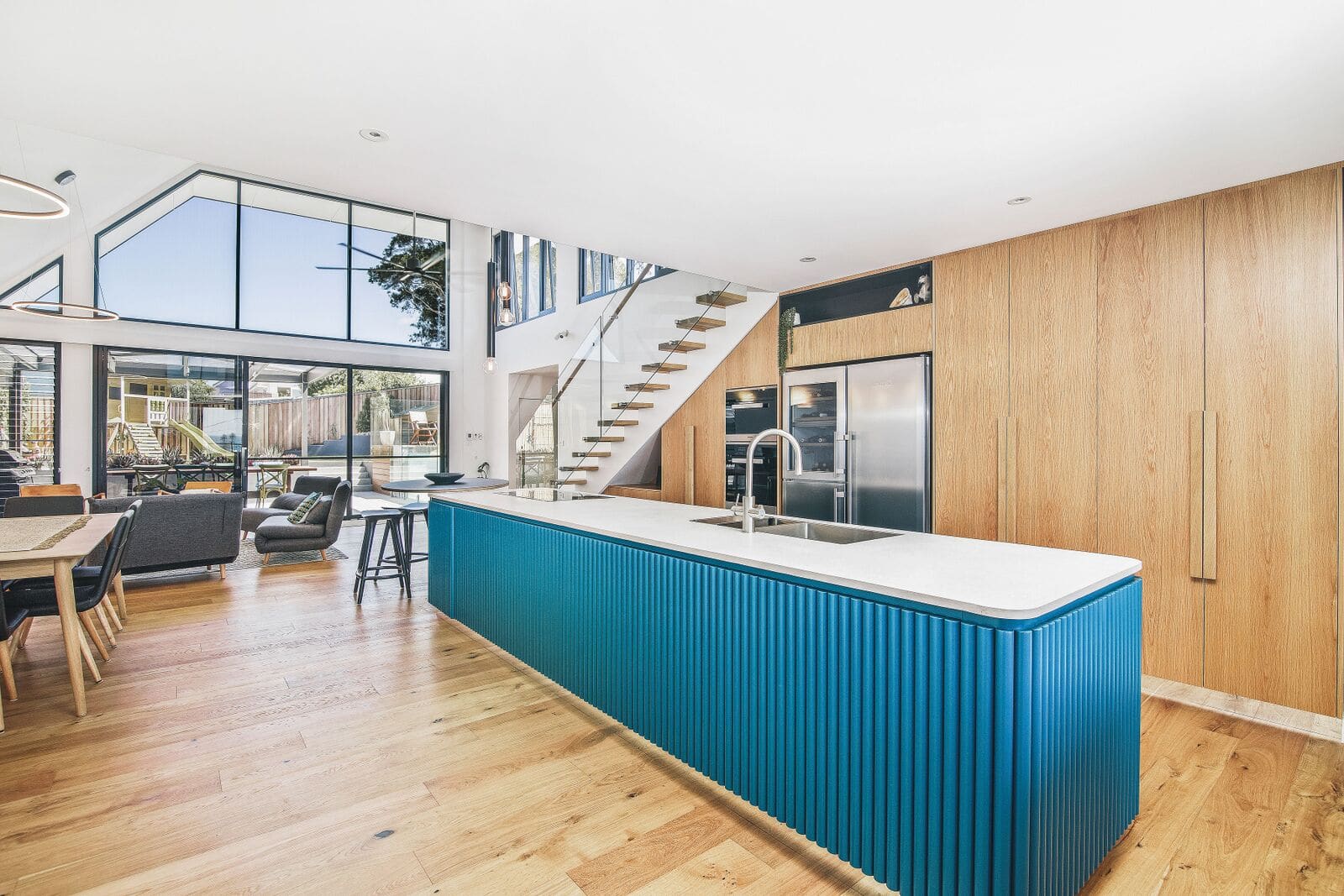 Bathrooms
Both of the clean and spacious bathrooms are equipped with luxurious baths for indulgent moments. The master bathroom also features a stunning tile feature wall in the shower, inspired by the ever-present coastal theme.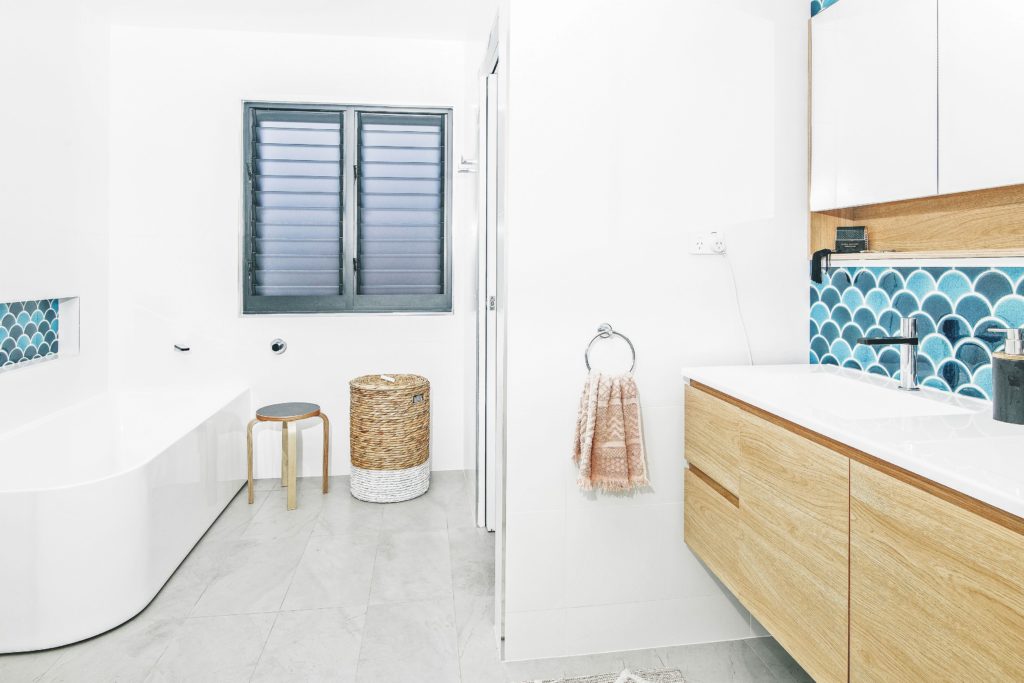 Outdoor Living
Each outdoor living space makes the most of the stunning seaside location. The ground floor includes a garage and gardens, while the middle floor includes an alfresco barbecue area and a stunning pool with glass window. There's also a deck at the front of this stunning home so our clients can fully enjoy the views. Our Kiama project really does embody luxury coastal living.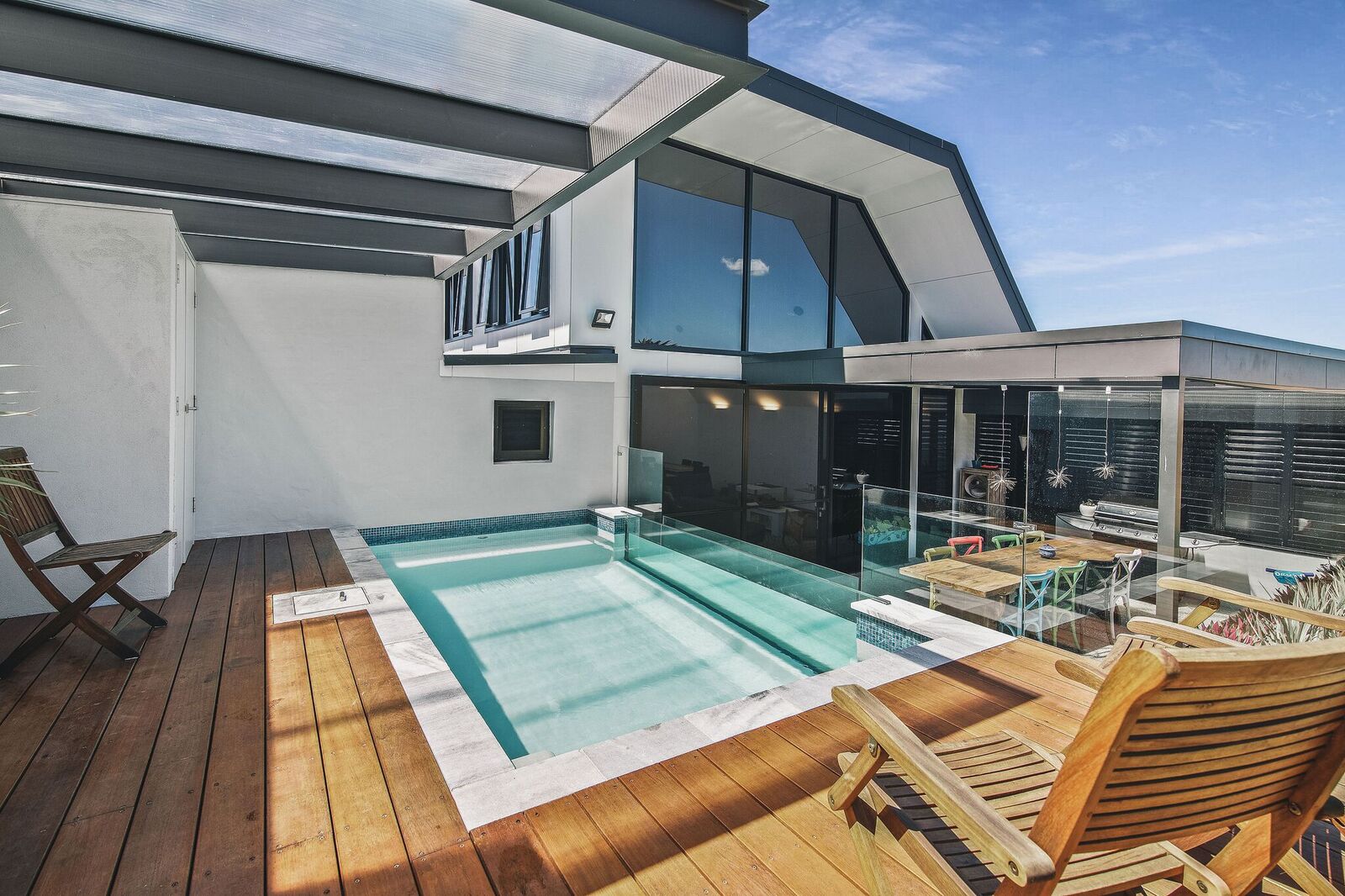 ___
To learn more about our Kiama project or to find out how the team at Smartbuild South Coast can help create your very own architecturally-designed custom home, get in touch today.