Everything You Need To Know About Building A Pool
Take the Plunge into our Q&A with Cloud9 Pools
When it comes to building a luxury home on the South Coast, this often includes a pool. But where do you start when it comes to the design, fencing and colour palette of your pool? Not to mention the construction process… You turn to the experts, of course.
We recently sat down with specialists Rob Lewis and Glenn Heath from Cloud 9 Pools to discuss all things pool construction. Smartbuild South Coast has worked with the team at Cloud9 pools on many projects over the years, including a part inground, part above ground pool on a steep site in Figtree, an award-winning above ground pool in Kiama and a pool and spa combo at Smartbuild HQ in Shellharbour. We can testify to this – when it comes to creating an aqua oasis inside your home, the team at Cloud9 Pools certainly know what they're doing.
Keep reading to find out everything you need to know about building a pool, according to Rob and Glenn.
Smartbuild South Coast (SBSC): What are some of the most important considerations when it comes to pool placement?
Cloud9 Pools (C9P): How the pool will be used by the owner is our first priority. Most people want a pool to be an extension of their outdoor living space, located close to the alfresco area. This will result in a pool that is used more often, as homeowners will already be spending the summer months outside. It also will result in a pool that is visible from the kitchen and or living space meaning the pool also doubles as a kind of water feature from the house.
SBSC: How do you determine if an inground or above-ground pool will work better for the space?
C9P: All of the pools we build are made from reinforced concrete, so structurally there is little difference, except for a few details to the steel for above ground pools. When it comes to hydraulics, there is no difference between and above ground or inground pool. The real difference comes with the slope of the yard.
A block that slopes away from the rear alfresco would be better suited to an above ground pool so that it creates a one single-level space extending from the house. An inground pool will work much better for a flat block.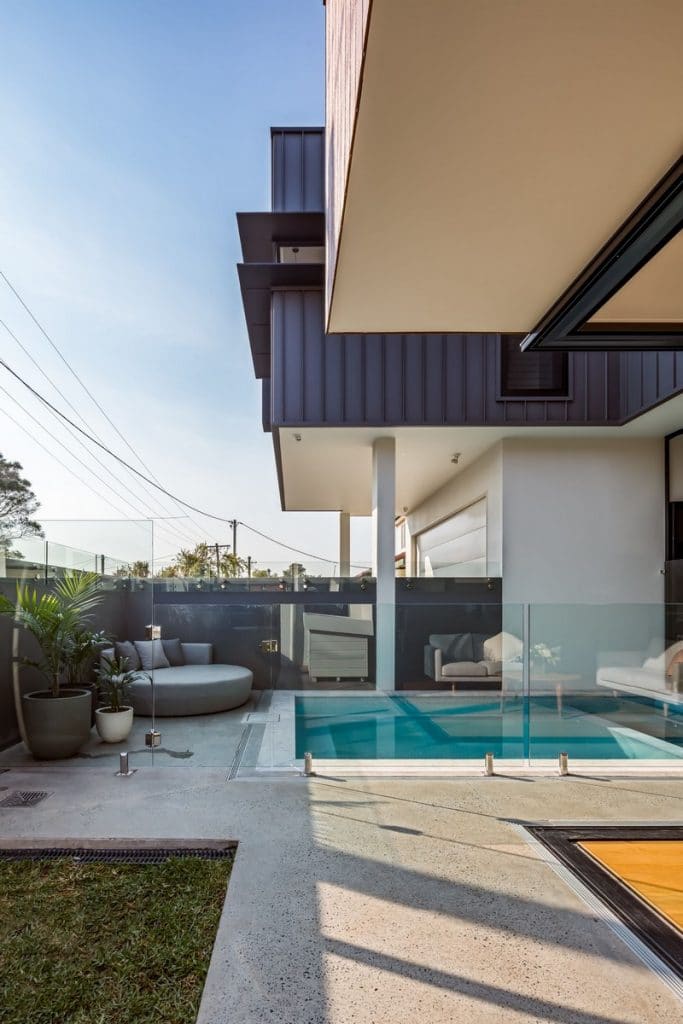 SBSC: What's involved in the process of installing a pool?
C9P: The first step is to meet the customer onsite to discuss the design requirements and send out a quote based on the design. Once the customer accepts the quote, we will sign a preliminary agreement. We will then get plans drawn up to be approved by the Principal Certifying Authority. Once plans are completed and approved, we sign a contract with the client and schedule into our construction timeline.
Then the digging starts! This will usually take 2-3 days depending on the site conditions. Immediately after the digging is completed, formwork and reinforcing steel goes in. Then the skimmer box and pipework are installed to the reinforcing steel. After that, the area is sprayed with concrete to complete the shell. The shell is then left for 28 days to cure.
After curing, the waterline tiles and coping are added. Once that's done, and any pool surrounds have been paved, the fence is erected. Then whatever interior finish the client has selected is applied. This takes a day and then the pool is filled the following day. After that, the pump and filter are installed, and chemicals are added.
When that's all done, our customers can enjoy their new pool! The final step is for us to sign up your pool with the NSW swimming pool register and have a private certifier inspect your pool to be signed off.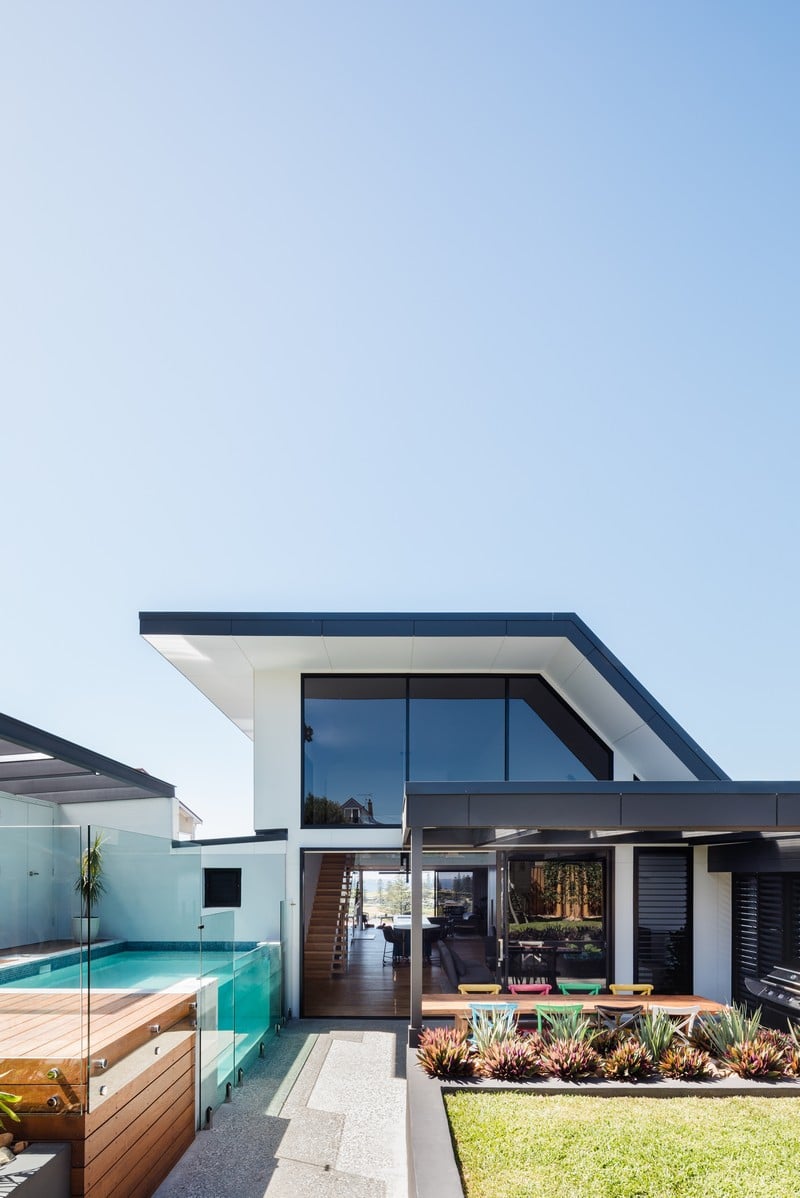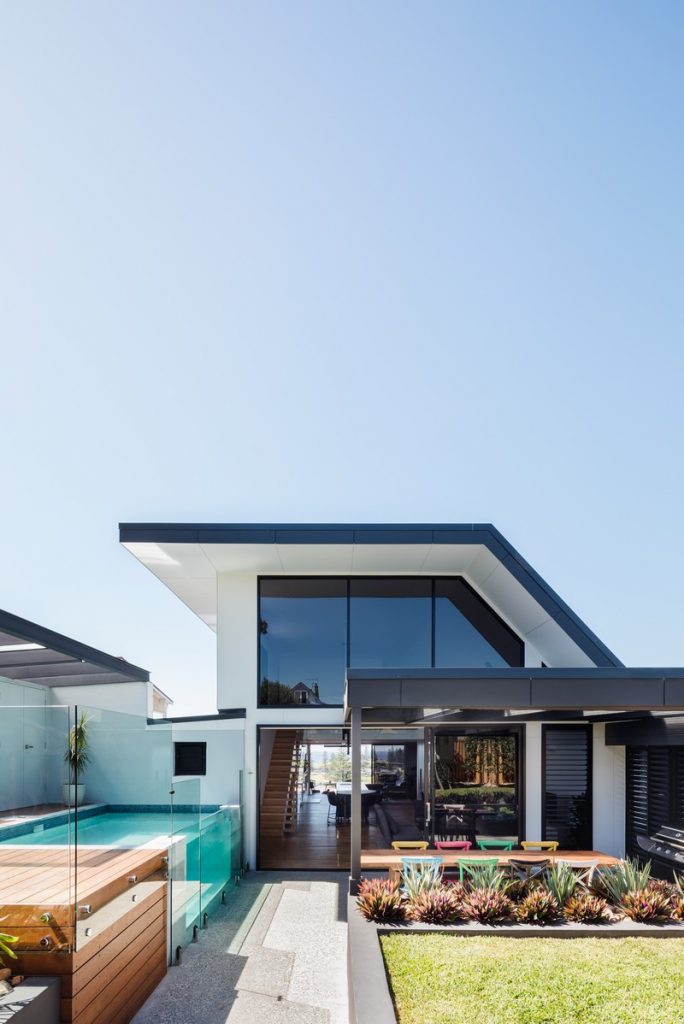 SBSC: How do you determine the best type of pool for a block? For example, what kind of pool would best suit a narrow block?
C9P: Generally speaking, a narrow block will better facilitate a narrow pool. However, there are other factors to consider like sewer easements, access to BBQ areas or garages, prevailing winds, as well as the shade and slope of the block. These are all factors that will impact the size, position and shape of the pool. When the block is narrow it can limit options but often result in a unique design.
SBSC: What types of pool fencing would you recommend?
C9P: Frameless glass is by far the most popular fencing, as it doesn't obscure the view of the pool. But if privacy is needed, people often opt for hardiplank or blue board screening. There are also plenty of new products for every fencing need and taste, including aluminium louvres, rusted steel screens and timber palisades. The sky really is the limit!
SBSC: Are there any unexpected considerations when it comes to pool design and installation?
C9P: Excavation will always produce variations that cannot be predicted. Sewer lines can often run through backyards and sometimes not appear on the plans. Rocks are another aspect that we don't know about until we start digging.
Something that we find on blocks in older suburbs is buried waste. These are all things that cannot be predicted until excavation has commenced. However, we always ensure that we let our customers know of the potential for this to occur, so they aren't hit with an unexpected bill. Whenever we deal with something like this, we charge a "do and charge" rate to keep the costs as low as possible for the customer.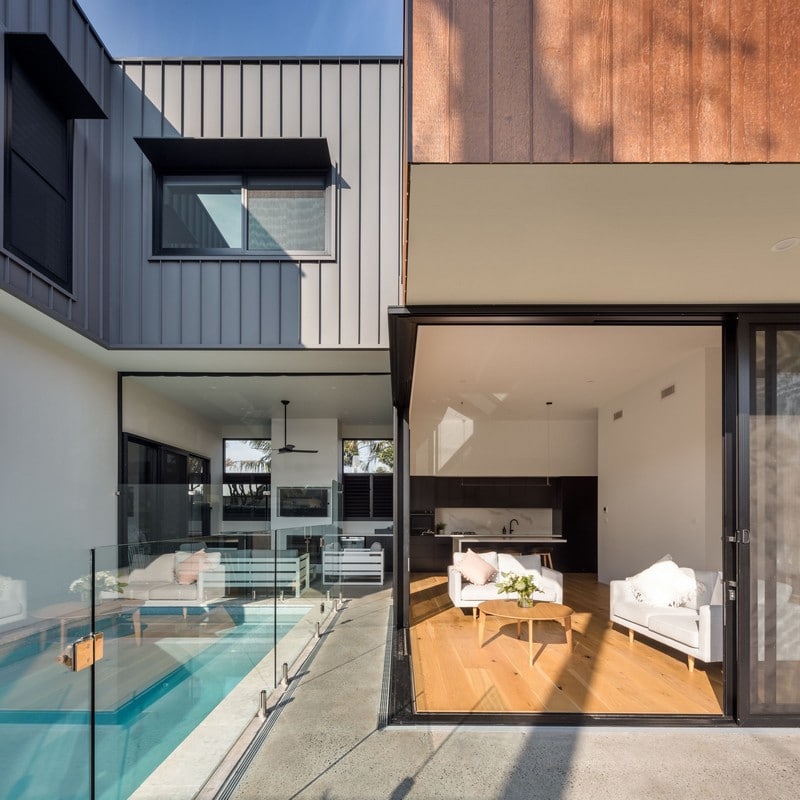 SBSC: Can a pool be designed and installed to suit any budget?
C9P: We try to keep our costs down wherever possible without compromising on quality or the features that we include. This ensures that our pools will work with minimum maintenance and ultimate efficiency. But we also get charged minimum rates from our subcontractors so there is a certain level of costs that can't be avoided. As such, our pools start at $45,000 and move upwards from there depending on size. The beauty of a concrete pool is that the pool walls can be used as retaining walls, creating level spaces on sloping blocks much cheaper than fibreglass pools can.
____
If you want to learn more about adding a stunning pool to your South Coast home, get in touch with Rob Lewis and Glenn Heath from Cloud9 Pools. If you're keen to build a brand new luxury home, give Jake from Smartbuild South Coast a call on 0431 388 059.